A Summer Adventure 
---
Located in one of the most beautiful places in the world on the shore of Lake Geneva and at the foothills of the Alps. Campers are surrounded by unparalleled opportunities for adventure, challenges and exploring this beautiful landscape through our Lake and Mountain program.
Language acquisition is taught through focusing on conversations building confidence. STEAM classes are partnered with Addictlab, an international organisation that promotes scientific learning through independent research.
Families travel from all around the world to get a real Swiss experience while having fun and developing lifelong friendships. Campers are encouraged to truly immerse themselves in the spirit and ethos of St. George's, which advocates respect for others embracing challenges, caring for the environment and active learning.
Choose your dates. Then after acceptance your child will be able to tailor their program choosing a morning study option of French, English or STEAM, and then their interests of either Tennis or Lake & Mountain sports.
Campers are split into their age groups in either Seniors (13 – 16 years old), Juniors (8-12 years old), and Nanos (4 – 7 years old).
Every week there is an excursion to discover Switzerland. Every weekend there is an overnight expedition where residential campers get to have an unforgettable experience with their friends.
Welcome from the Director
Image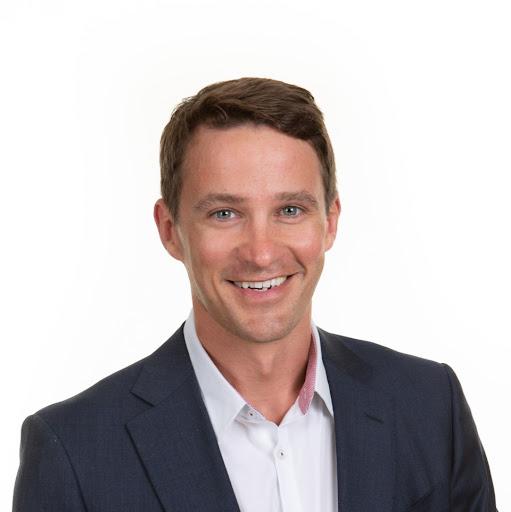 St George's Summer Camps offer an opportunity to experience what the St George's spirit is all about. Our camps are created to help young people become more independent, forge lifelong friendships and of course, have lots of fun.
Campers live in an international and multicultural environment (40 nationalities) where respect and acceptance is the cornerstone of our values. Our beautiful campus is located next to the town of Montreux right on the foothills of the alps and just a few hundred meters from Lac Leman. It truly is an inspiring and exciting place to spend your summer.
Duncan Robinson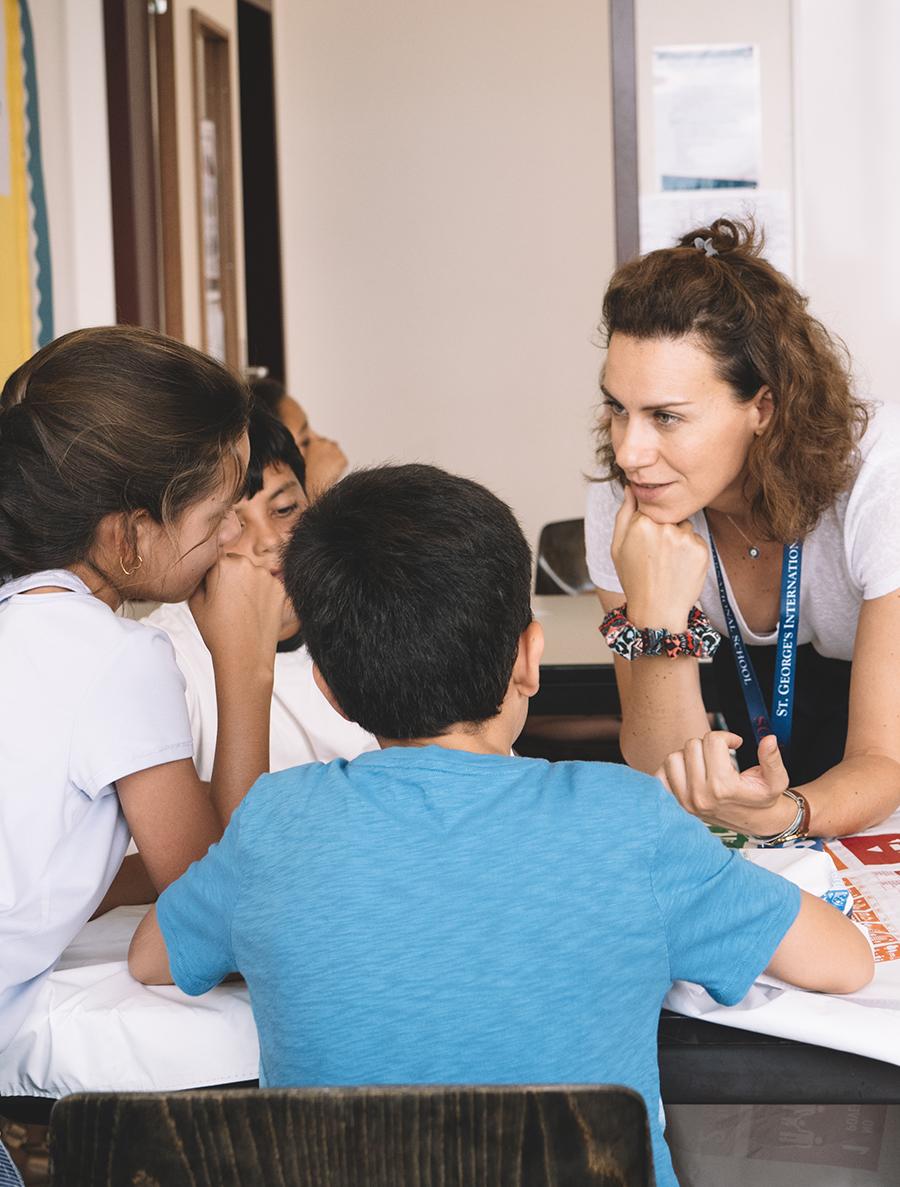 ---
Languages
Lessons are tailored to fit the interests of each camper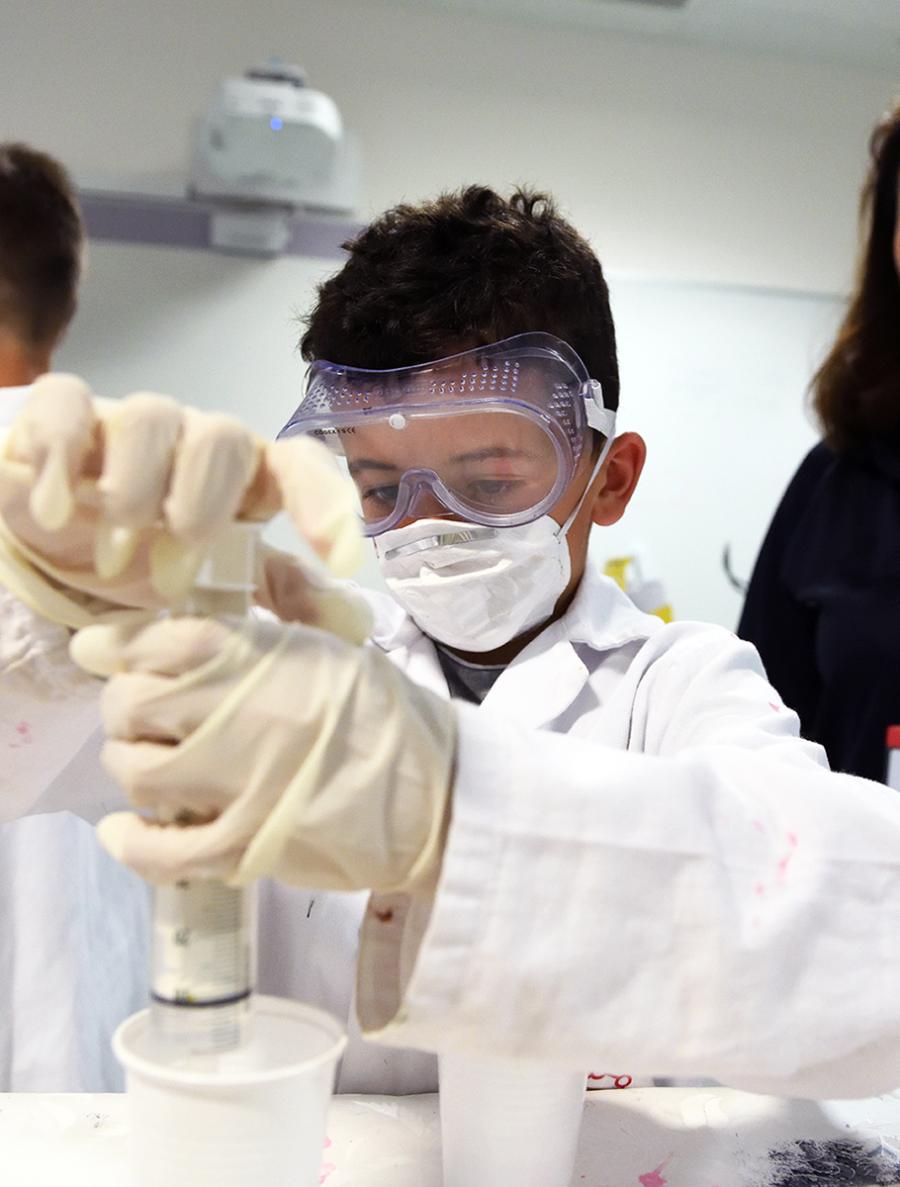 ---
STEAM
Science, Technology, Engineering, Arts, Maths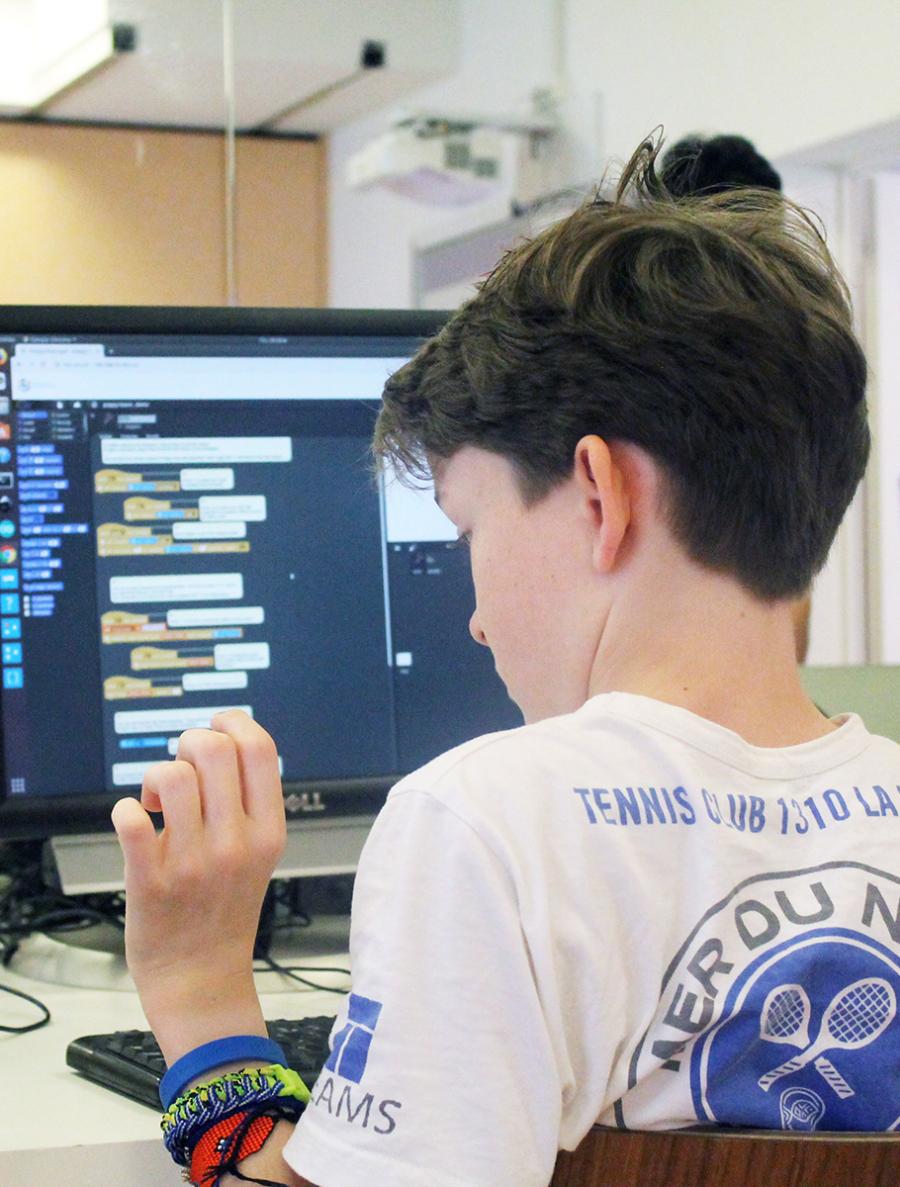 ---
Computing
Computing is a new morning option for this year 
Choice of Afternoon
---
For these tailored afternoon sessions, campers are requested to choose one option from the below section. Afternoon sessions run from 13:30 pm to 17:00 pm Monday to Friday.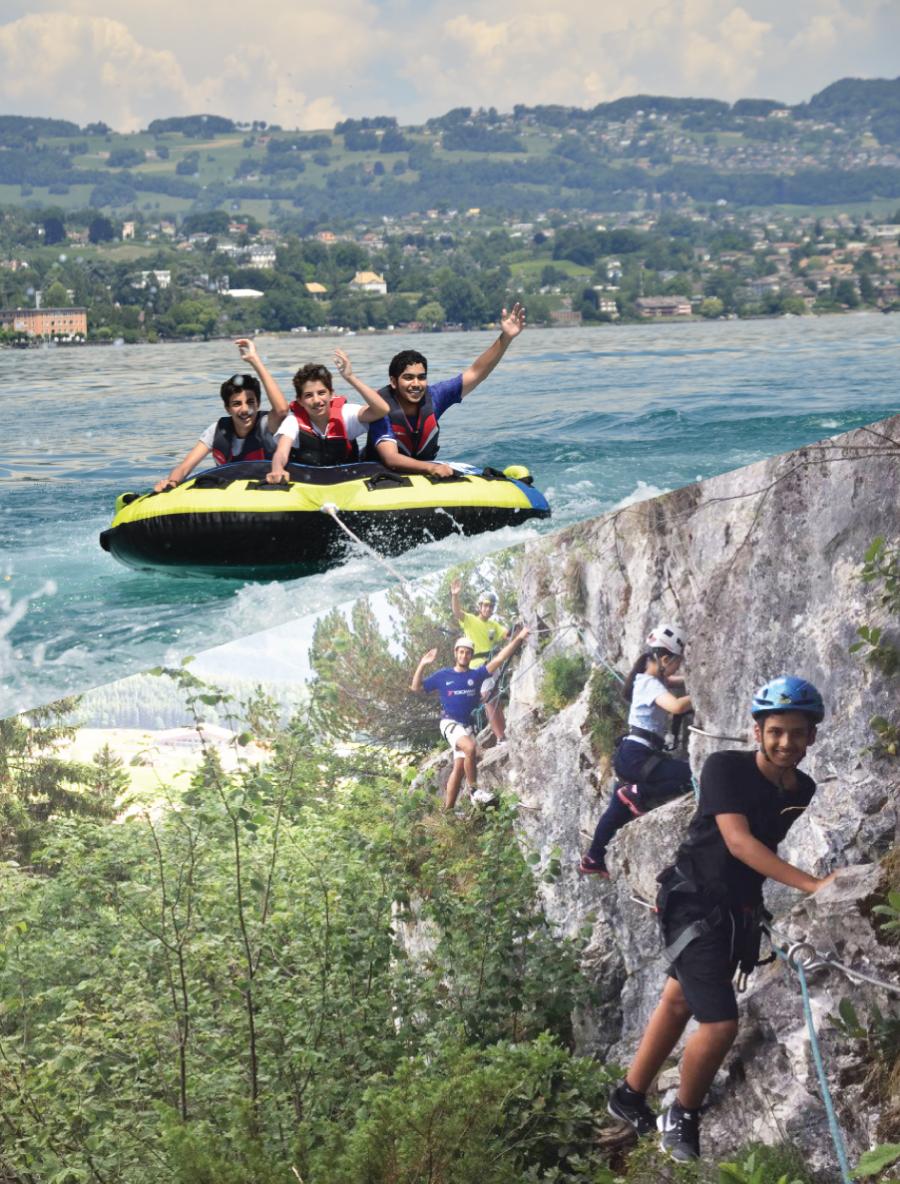 ---
Lake and Mountain Camp
The Lake and Mountain camp is designed for those who love adventure!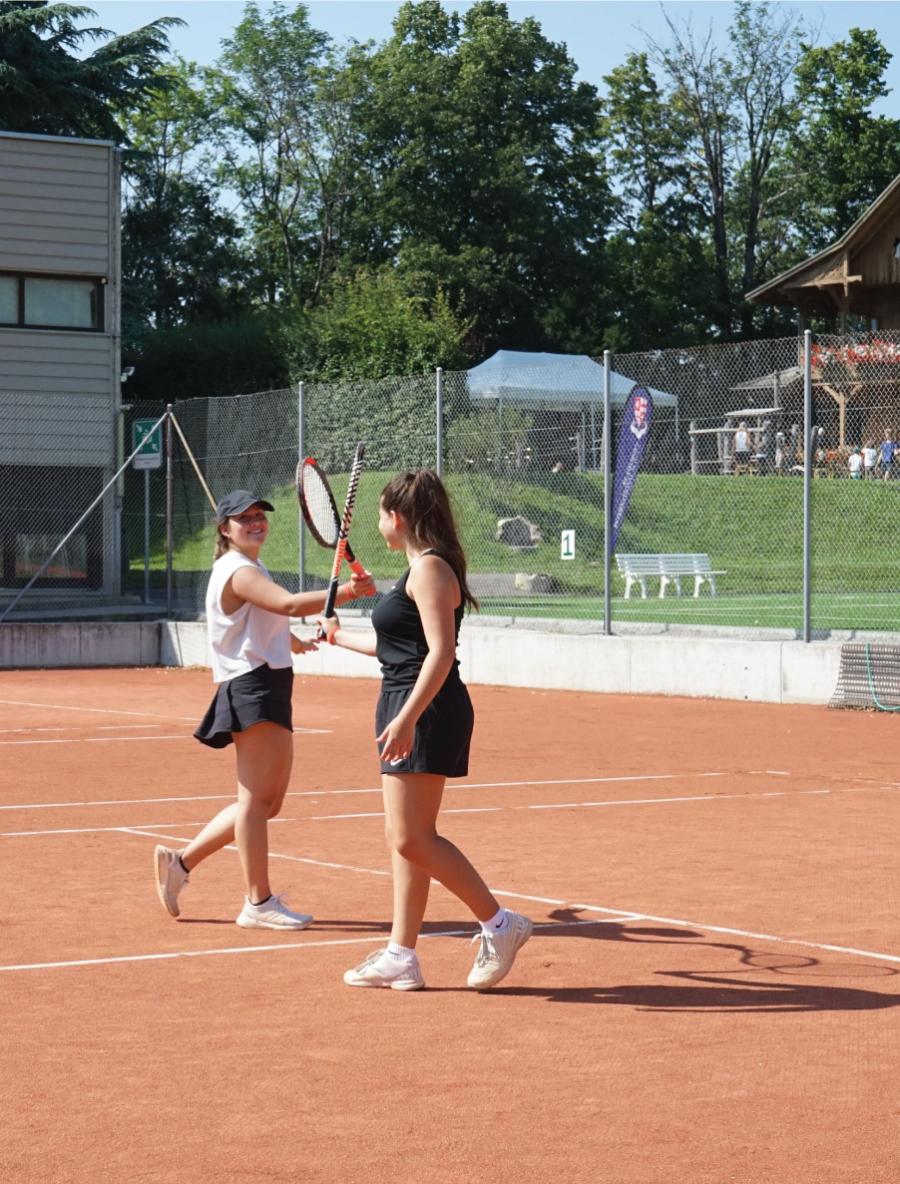 ---
Tennis Camp
Sport Spirit are one of Switzerland's most dynamic tennis organisations
Our weekly language excursions are based around swiss culture, visiting beautiful sites such as, Geneva, Bern, Gruyere or even a trip to Chamonix, France. They will have the opportunity to speak French, immerse themselves in Swiss culture and share wonderful experiences.
The weekend programs are a highlight of the camp and memorable experiences for all. The groups come together to share activities such as Canyoning, Camping under the stars, White water rafting or even an introduction to Mountaineering on the snow capped summer mountains.
Campus
St. George's residential school in Montreux is one of the premier educational institutions in Switzerland. With over 90 years of experience nurturing young minds, we offer a flexible approach, with flexi, weekly and full residential options available to suit you and your child's needs at a real home-away-from-home. Our residential facilities are an extension of our commitment to excellence in every aspect of the care of the individual and offer a safe and secure environment ensuring every pupil can thrive. Our residential school offers an exceptional hybrid system, including remote learning technologies and well-trained staff, offering an optimised learning experience. In an ever-changing world, our school remains committed to excellence by transforming our systems and methodologies to suit pupils' needs. We ensure uninterrupted learning through a trusted hybrid system with remote learning technologies. We look forward to sharing our rigorous academic offering and enriching curriculum with you.
Choose your summer adventure
CAMPS
 
DAY
RESIDENTIAL
Seniors 13 - 16 Years
Session 1,2,3
2 weeks
3400 CHF
6800 CHF
Juniors 8 - 12 Years
Session 1,2,3
2 weeks
3400 CHF
6800 CHF
Nano Camp 4 - 7 Years Old
Session 1,2,3
2 weeks
1,900 CHF
 
Session 1 - 2nd to the 15th July,
Session 2 - 16th - 29th July
Session 3 - 30th July - 11th August.
RESIDENTIAL - Sunday - Friday
DAY - Monday-Friday 09:00 - 17:00
What is included / features
DAY AND RESIDENTIAL CAMP
30 hours of Languages or Steam taught by highly qualified teachers and industry leaders.
30hrs+ Afternoon activity led by highly trained instructors and teachers
1 full-day excursion per week (Wednesdays) – Example: Swiss chocolate and cheese Factories, Charlie Chaplin Museum,
Addictlab – Science excursion CERN, Olympic Museum – Lausanne.
Lunch and snacks provided
Insurance
End of camp report
Certificate of achievement
RESIDENTIAL ONLY
Weekend Excursions – Example: White Water Rafting, Canyoning, Hydrospeed, Hiking, Cultural visits.
Accommodation in our newly renovated residential facilities, Single and twin rooms, Large Lounge and common areas with comfortable seating, TV, Table tennis and reading areas.
Evening activities programme, example- Team challenges, Movie nights, sports, Arts/crafts, Theme nights.
Laundry 1x per week
3 meals per day plus snacks, supervised kitchenette for preparing snacks.
OPTIONAL SERVICES
Airport transfers Geneva Airport
Local Pick up/Drop off transport available (Selected route only)
Private lessons- Languages, Tennis, Wakeboarding.
Frequently Asked Questions
What is the pupil to camp monitor ratio?  
1:10 max, however, it is often lower. 
 
Where are the residential students accommodated? How many students share a room?   
All our campers are housed in St. George's International School Residential House. Campers share a room with one, two or three people. Single rooms are also available upon request. 
 
Is there a laundry service included in the Residential House?   
Yes, on arrival all our Campers are given a laundry bag to store their unclean clothes. It will be cleaned by our housekeeping team once per session. 
 
Do the kids need to bring their own bedsheets and towels? 
No, bed sheets and bath towels are provided by the residential house. However, please bring your own towel for the sport/water activities. 
 
Are there any other additional costs we need to consider?   
This is an all-inclusive camp, no extras are needed. However, during the camp, your child will have the opportunity to go paragliding, if you would like this there is an additional cost of approximately CHF 170. 
 
Which airport should my child fly to?   
Geneva airport, It is an easy 1hr commute to the school. 
 
How many children are in each language class? 
We have around 10 campers per language class. 
 
Which language would the students speak during the program? 
The main language is English, and the camp will be held in English, however, lots of our staff are bilingual French/English. 
 
How many options can campers choose? 
Campers may choose one option for the morning and another one for the afternoon. 
 
How many days a week and how many hours are set aside for sports vs academics? 
Our days are equally split with academics in the morning and sport activities in the afternoons Monday-Friday. Over the 2 week period they have 30hrs of academics and 30hrs of sports plus excursions and weekend activities for those residential. 
 
What equipment should they bring for sports?  
Our Camp will provide all the materials and a list of what to bring will be sent to you prior arrival. All Campers will need to bring their swimwear, sports clothes, rain jacket and good mountain shoes. Tennis students will require tennis shoes (our courts are clay and hard). 
 
How much pocket money should be given and is there somewhere safe to store it?  
We recommend CHF 50.— per week. Campers have a private safe in their rooms or the residential staff can look after it for them and give out certain amounts when required. 
 
If a child must administer an injection every day before bedtime, can anyone help them with this?  
We have a qualified nurse on site and if help in this type of case is required it can be arranged. 
 
Do the children mix with English speakers on the Campus or in their rooms?  
Room distribution is typically based on ensuring a good mix of nationalities and maintaining the international feel of the Camp. If a family expresses a wish for campers to be roomed together, that can be accommodated.  
Fitness:
Your child/ren must be of good physical and mental health before coming to our camp. All medical information must be supplied in advance so we can take the best care of your children.
Fees:
The fees represent all-inclusive cost-covering accident insurance, activities, lessons, accommodation for boarders, and food. It does not cover the transfers from the airport, which the School can supply at an additional cost.
Registration:
Registration and confirmation of a place in St. George's Summer Camp will become effective only upon the payment of the Summer Camp deposit.
Expulsion:
In case of expulsion from the Summer Camp, which is due to the breach of the camper's code of conduct rules and regulations, the School will retain the total amount of the camp fees, and no reimbursement can be arranged in this case. All campers will conduct themselves correctly and acceptably, regardless of age, gender, language, nationality, and religion. The Summer Camp Director reserves the right to send home anyone who's behaviour goes against the school ethos. Any additional costs (such as plane tickets, school property damage, taxi runs, food, etc.) will be at the parent/guardians' expense. Parent/Guardians are expected to pick up their child within 48 hours of having been notified. A Summer Camp handbook with a code of conduct policy will be issued to each camper.
Allergies:
The Director reserves the right to refuse a student whose medical and allergy condition may represent a risk that is considered beyond the training of the Summer Camp team.
Smoking/alcohol:
The possession or consumption of cigarettes, alcohol or drugs is strictly forbidden both on and off-campus. Any breach of these rules will be seriously dealt with and may result in the student being sent home at their parent/guardian's expense. There is a zero-tolerance policy for this.
Responsibility:
The campers will be provided with a safe in their bedroom or the camp office. The campers are responsible for their belongings, and parent/guardians release the School of any responsibility for damage, loss or theft.
Publicity:
Please be aware that your child's picture could be used on the school website, in school films, or other school publicity items. If you wish to remove these rights, please let us know when signing the consent forms.